Space Intelligence offers a range of products and services geared towards monitoring the natural environment, for Nature Based Solutions, ecosystem service mapping, deforestation monitoring, and other applications. We provide you with the intelligence that you need for your internal and external reporting; your clients; and for broader engagement. We do the data processing, analysis, and summary work, allowing you to get the key facts you need, backed by independent world-class science.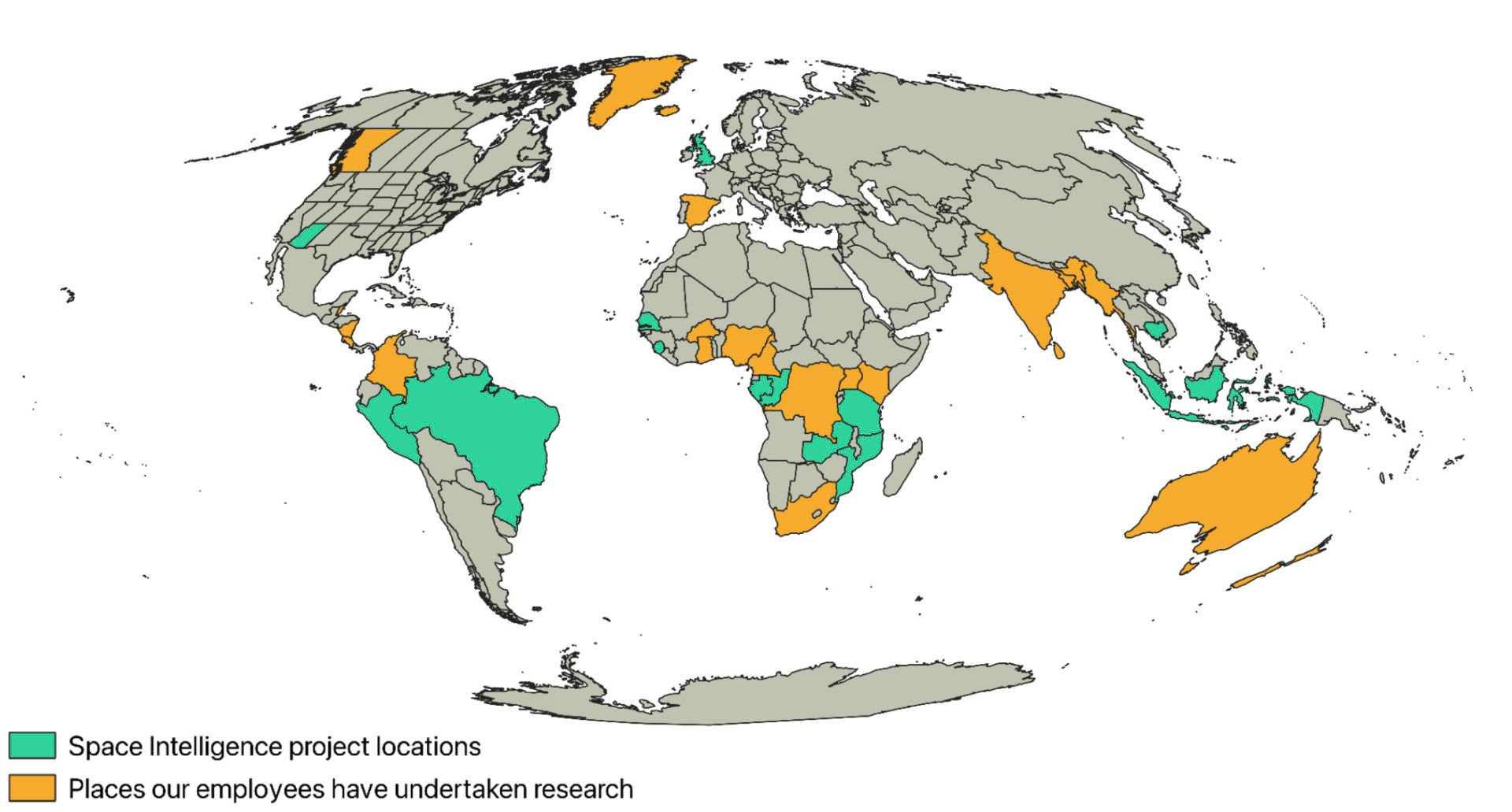 We won't push technology on you. In fact, we understand you want timely answers to your business-critical questions, and not techno-speak (though we're always happy to talk about science and technology).  We aim to provide clear, concise reporting in plain English, that delivers the intelligence you need in a professional manner.
We have extensive worldwide experience from a seasoned team having undertaken research all over the globe as well as speaking a multitude of languages including French, Spanish, Dutch, Norwegian and Bahasa.
Our core services are:
HabitatMapper

With HabitatMapper we can map the landcover of any ecosystem on Earth, and track how it is changing with time. The product runs on our custom developed satellite analysis platform, with the classification performed with our custom machine learning tools. This means we can produce highly accurate maps consistently and quickly, and reliably repeat them year after year (or month after month), to track changes in landcover. While we use a consistent set of satellites in this product, and a consistent automated classification process, the classes are carefully customised based on the local conditions and the client requirements, with us often incorporating client-provided ground truth data into our products to maximise accuracy. In the production of accurate mapping data, our collective decades of experience of habitat mapping around the world feed in to making the right choices to create the best possible maps.
Our clients using our HabitatMapper products include major international corporations, NGO's including Winrock International, and NatureScot, an arm of the Scottish Government. The number of classes considers varies greatly, with some tropical deforestation project examples involving relatively few classes (e.g. forest, degraded forest, agriculture, grassland, water), whereas our NatureScot work involves over 20 classes, offering a challenge few other companies can meet.
CarbonMapper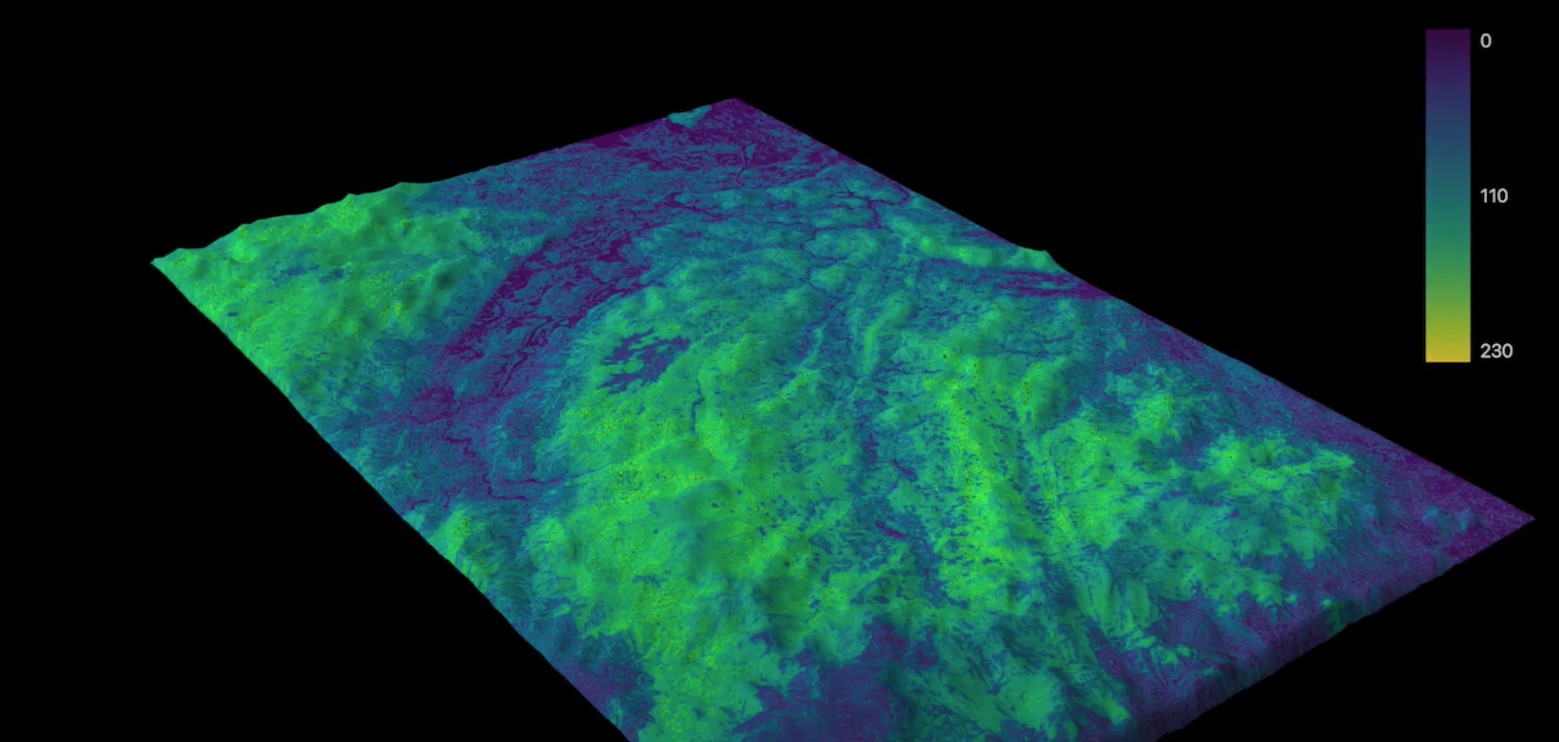 Many of our clients want to know more about how a landscape is changing than landcover maps (like our HabitatMapper service) will tell them. Rather than just knowing how much forest is changing into non-forest, say, they want to know what changes are happening within the forest class (e.g. degradation or regrowth).
This is where our CarbonMapper service comes in. Here we use a market-leading combination of satellite data, combining 3D information from LiDAR and Synthetic Aperture Radar satellites with colour information from optical satellites, with our unique ecology-aware machine learning algorithms, to produce continuous maps of forest carbon. When used as a one-time service these can provide unique, accurate snapshots of the carbon storage of a landscape, with figures useful for claiming carbon credits or as a management tool, showing the areas of high and low carbon storage within a landcover type. And with repeat censuses (most clients choose annual monitoring, but up to quarterly is possible) it is possible to dynamically watch and react to the changes in a landscape, enabling the nipping of forest disturbance in the bud if through seeing forest degradation before it becomes forest clearance, or enabling a carbon project the evidence to claim the credits it is owed for forest recovery and growth.
See a video about the release of this product.
ForestMapper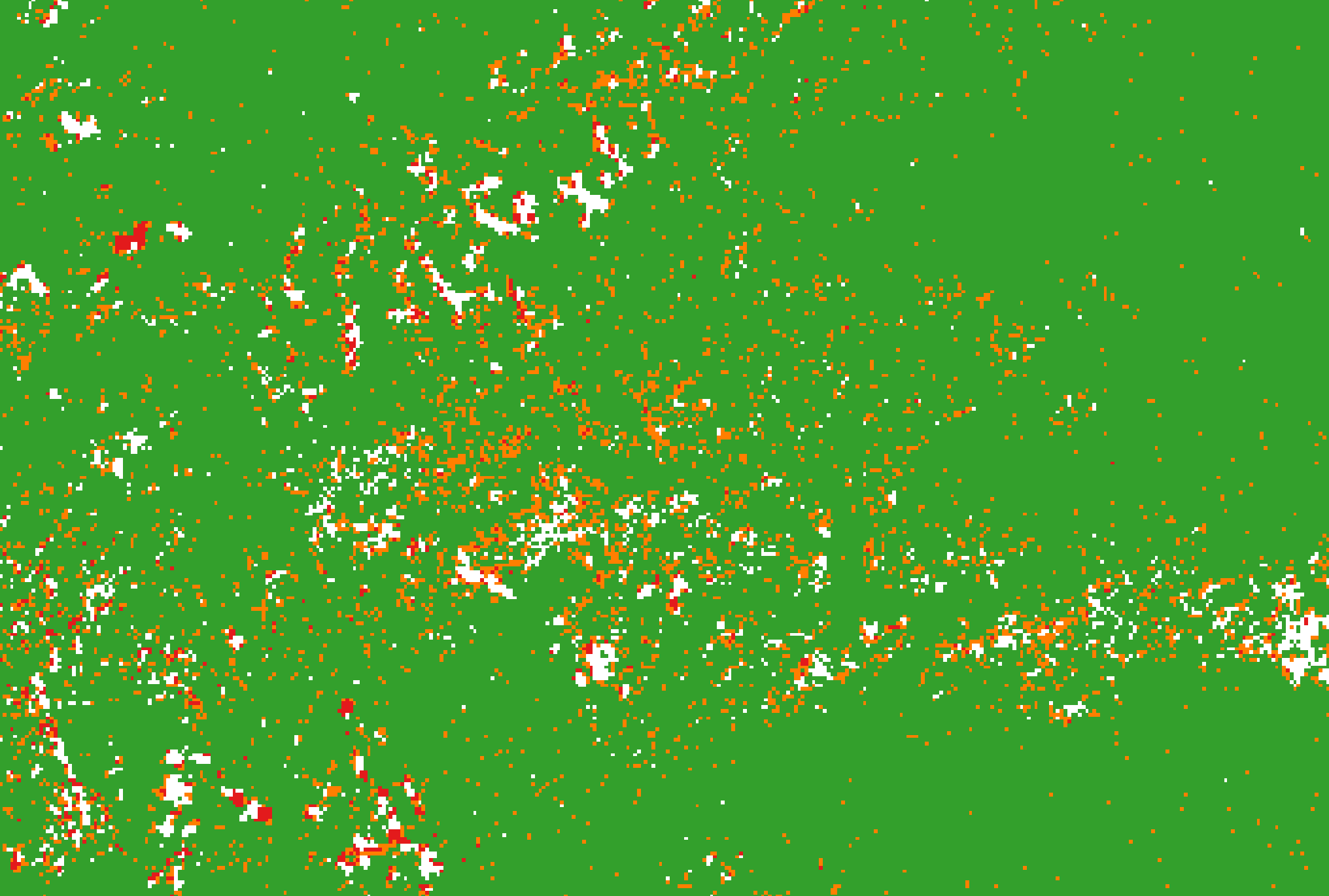 This product provides Near Real-Time alerts of deforestation and forest degradation. Based on cloud-penetrating satellite radar data, we provide maps of forest change with a frequency up to weekly (though we find most clients require only quarterly monitoring at most). The results can be used to confirm a 'zero deforestation' supply chain remains that way, to provide evidence at Reducing Emissions from Deforestation and forest Degradation (REDD+) project is working and help claim the relevant carbon credits under any awarding body, or as a monitoring tool to nip deforestation in the bud.
This product can be provided, as with our other products, as a pdf report with accompanying geospatial layers (e.g. GeoTIFF files) and spreadsheets. However, we can also as this is an alert system produce it in a more automated way, with the option to provide SMS alerts to phones for deforestation or degradation events detected in particular geographic regions, or serving the data as an API.
Service delivery
Pricing is context and data-dependent. Please contact us directly to discuss the details of your project,  so we can understand what you need from the end of the process.
Your results are tailored to your needs, whether you require simply summary statistics for a CSR report, or whether your team requires GeoTIFFs with per-pixel estimates of forest carbon. In most cases, we provide a pdf report detailing the results and non-confidential details of the methodology, a spreadsheet summarising the data quantitatively, and GeoTIFF (or other geospatial) files giving the output maps.
If you analyse data using your own in-house team, we can help reduce costs by using our automated systems to supply pre-processed satellite data.  If you need new data sets but are unsure precisely what the best option is for you, we are happy to advise. We can talk through new data acquisition from tasking satellites over your area of interest, and if you wish, purchase and process that data for you.
We are also happy to talk through bespoke projects, and particular challenges that you may have which may be addressed using satellite data.  Please get in touch to talk through the challenge you are facing and we'd be happy to talk through potential solutions.