Unilever releases locations of palm oil mills in a bid for supply chain transparency
Posted by

Categories

Blog

Date

12th April 2018
In February 2018, Unilever released details about its palm oil suppliers and mills in a bid to makes its supply chain more transparent. In what they call a 'radical step', they are one of very few companies to make this type of information available to the public. So why is transparency in supply chains important and what does this tell us about palm oil use at Unilever? Our NERC sponsored scientist Dr. Penny How is here to answer these questions.
---
Supply chains
Supply chains map the pathway of a product from producer to consumer. It effectively is the 'footprint' of a product. This commonly begins with the sourcing of the core materials which are transported for processing/refinement and subsequently distributed to the consumer.
In theory, you should be able to trace the ingredient in any product back to its origin by looking at the supply chain. This would then allow you to begin to assess the impact of a particular product on the environment. For instance, palm oil is used in a huge variety of products, and is grown in industrial plantations that have replaced natural rainforests across huge areas of Indonesia and Malaysia,  endangering iconic species such as tigers and orang utans.  Knowing this as a consumer, you may want to know what the impact of your tub of peanut butter has been on the habitat of Orang utans for instance.
The case of palm oil
However, palm oil is very difficult to trace back to a specific plantation because:
There are many steps in the supply chain before it makes it to a supplier;
The product is often mixed with other sources, therefore it often reaches a supplier as a blended product from many different sources;
Some regions have little or no regulations on palm oil production
The drive to sustainability in palm oil thus far has been driven by the Roundtable on Sustainable Palm Oil (you may see their RSPO logo on your tub of peanut butter). RSPO certification  provides a seal of approval that a palm oil mill, and the plantations that supply it are behaving in a socially and environmentally sustainable manner, specifcally
compliance with the Principles and Criteria (P&C), with limited adaptations for National Interpretations (NI), drawn up by the RSPO. The P&C is a set of conditions to satisfy the production of palm oil to be deemed sustainable. It not only involves good agricultural practices, but also fair treatment of workers and communities as well as proper acquisition of the land and care for the environment and biodiversity.
However there is also now a trend amongst large consumer goods companies towards making Zero Deforestation Commitments in their supply chains. For instance see commitments made through the Consumer Goods Forum (a body for consumer goods firms).  These commitments are ambitious, requiring a combination of transparency in supply chains (where exactly do company's source products like palm oil come from); enforcement (ensuring these source plantations are not driving additional deforestation); and monitoring (verifying that the plantations are not driving additional deforestation).  On the first point at least, there is currently very little transparency, if at all, in the palm oil industry. Indeed only one company has publicly released information on its supply chain: Unilever.
---
Oil palm supply chain transparency at Unilever
In February 2018, Unilever released details about its palm oil suppliers and mills, specifically their suppliers and the location of the processing mills. This is not necessarily the location of the plantations themselves, but represents the most information currently available from any one company.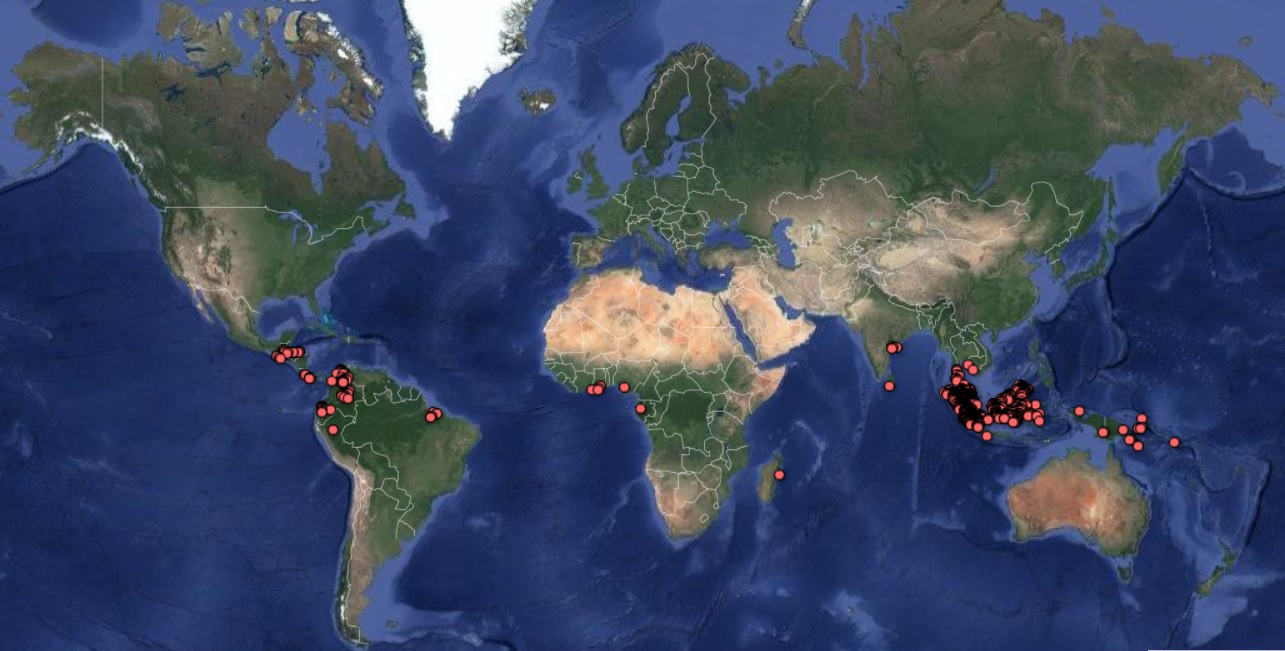 Summary statistics for Unilever production
In total, Unilever processes palm oil in 1431 mills over the world. The majority of these are located in Indonesia (817 mills, 57%), with high proportions also in Malaysia (458, mills 32%), and Columbia (50 mills, 3%).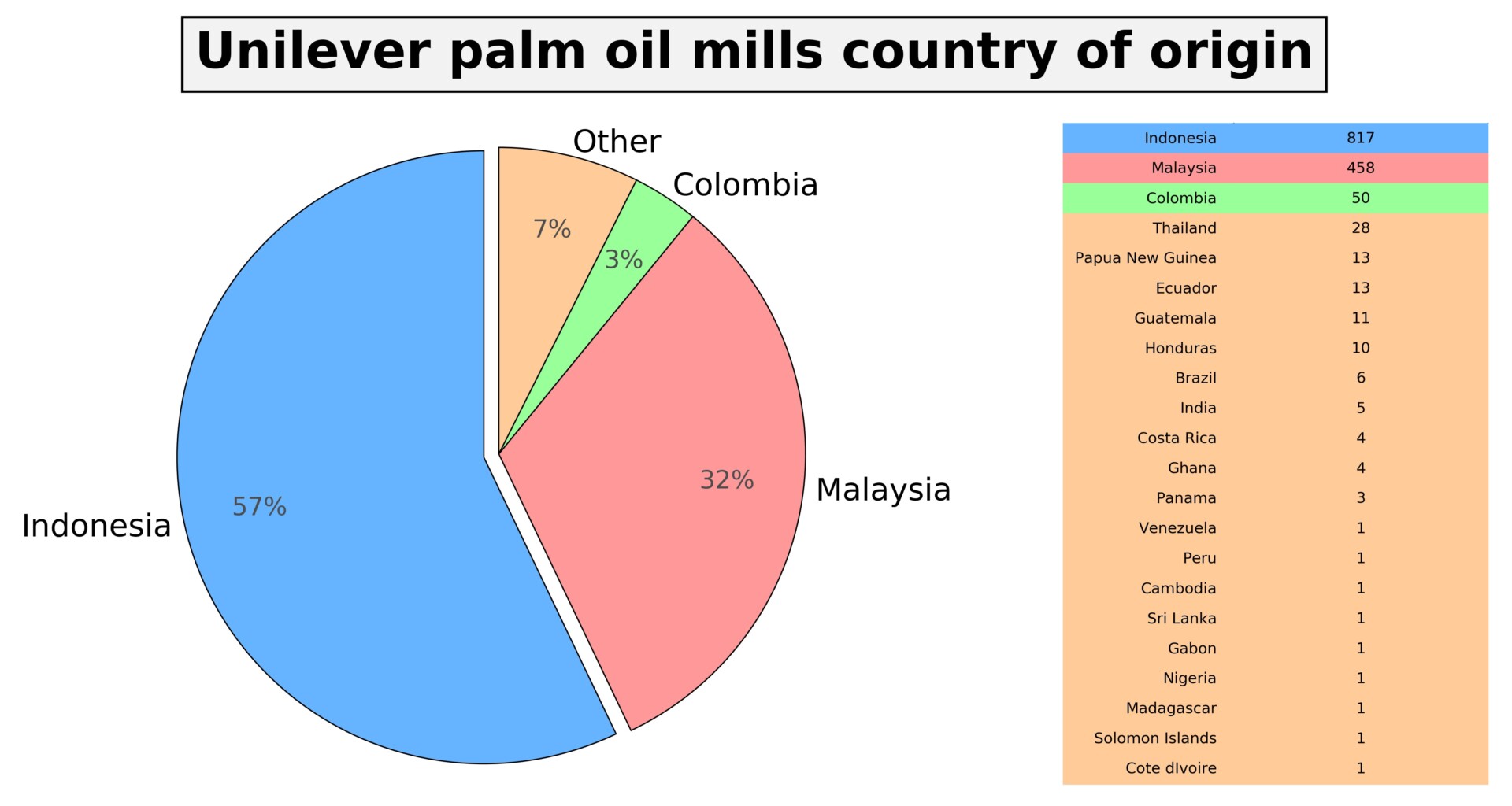 Pie chart showing Unilever palm oil mills country of origin
As well as the location of each mill, Unilever released information about each mill concerning if it is part of the Round Table of Sustainable Palm Palm, which is the industry standard for sustainable palm oil production practises. A quick tally of all of Unilever's palm oil mills shows that of the 1431 mills, 1135 mills are not certified by RSPO for sustainable production practises. This equates to 79% of all Unilever's palm oil mills. Only 296 mills (21%) are certified. It is difficult to draw any conclusions from this though as Unilever did not release the contribution of each individual mill to its total palm oil production.  This suggests that for true transparency, a company like Unilever ideally would also offer the contribution from each mill, and the location of each individual contributing plantation.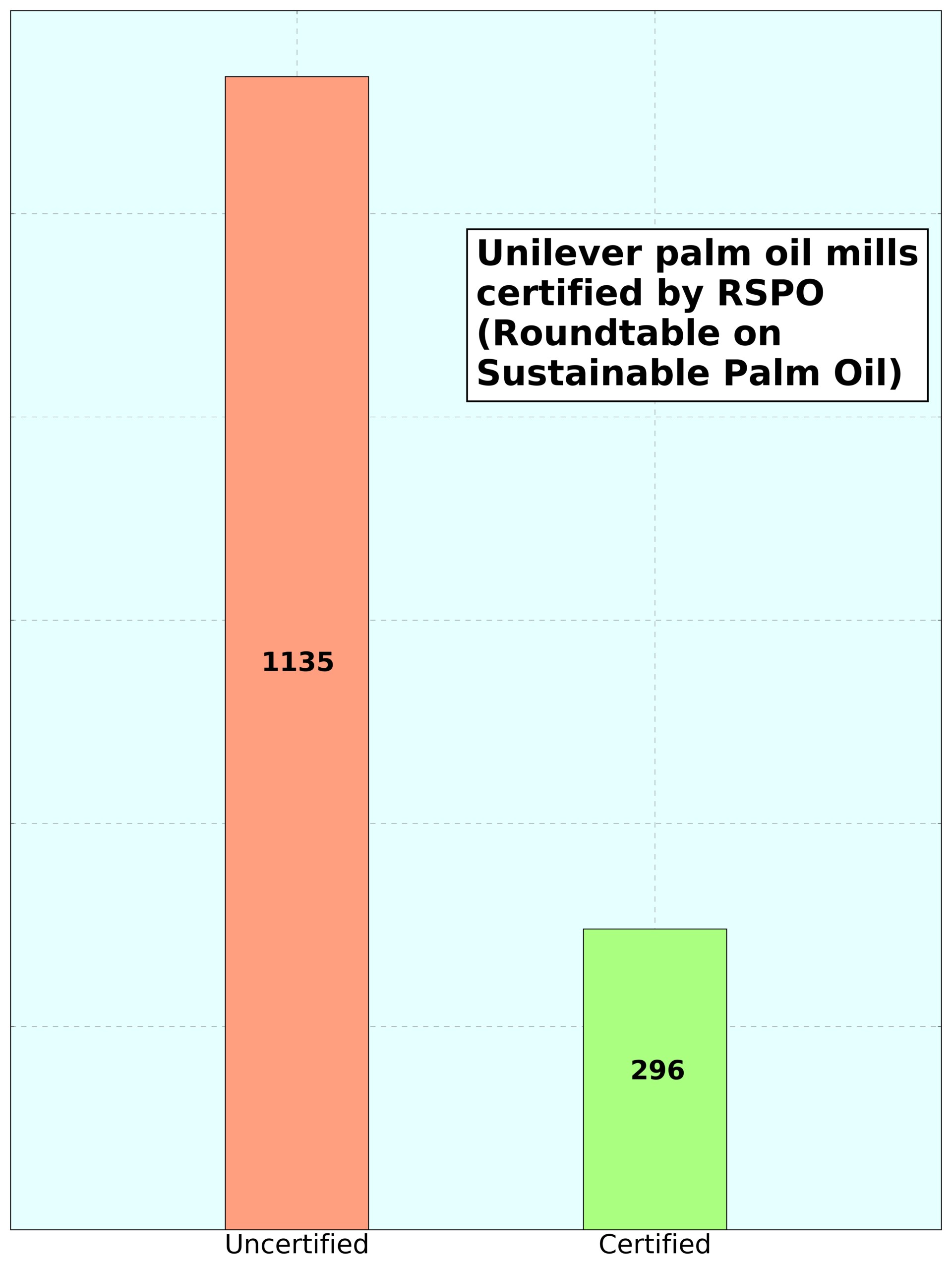 ---
Whilst it would be ideal to provide these additional data,  Unilever's release of information is a large step in the right direction and hopefully others will follow to improve global transparency in crops like palm oil.  Such data will be essential for monitoring commitments too, for instance by using satellite remote sensing to monitor natural forests nearby palm oil plantations to ensure that additional deforestation isn't taking place, or that deforestation is offset by forest regeneration elsewhere. These are the technologies we have developed at Space Intelligence, and are using to help companies quantify and monitor their environmental impact.
If you are interested in how Space Intelligence can help you monitor your environmental impact, please get in touch! Email is normally easiest, reach us via [email protected].