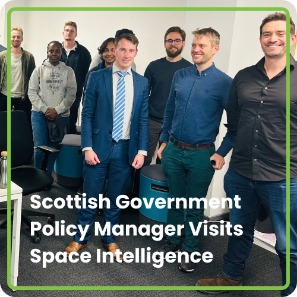 Scottish Government Policy Manager visits Space Intelligence
Categories

Blog

Date

7th February 2023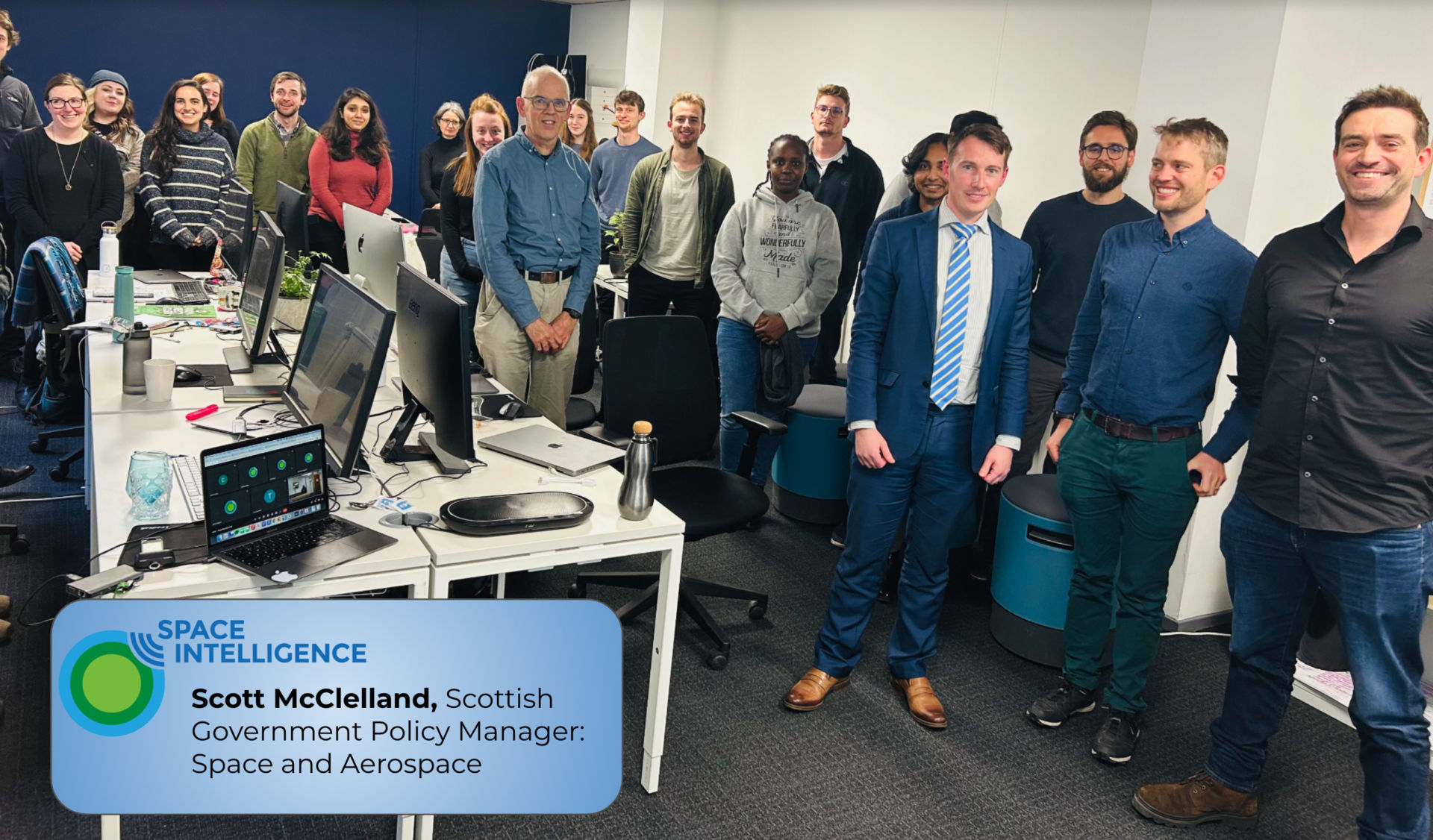 Fast-scaling NatureTech company Space Intelligence today welcomed the Scottish government's Space and Aerospace Policy Manager for a tour of its offices and discussion about the future of Scottish space. 
Scott McClelland's visit is part of the Scottish government's drive to foster a thriving space sector in Scotland. It underlines its belief in the potential of Space Intelligence to make a significant impact by delivering jobs and economic growth for Scotland.
"I was delighted to meet with Space Intelligence today to discuss the Scottish space sector," he said.
"It was great to learn more about the innovative work of the team in delivering nature-based commercial solutions to a global customer base that is driving economic value for Scotland and demonstrating the power of satellite data analytics in tackling climate change."
The Edinburgh-based global company is further advancing Scotland as a test bed for satellite data analytics innovation through its partnerships with Scottish government  agencies. Scotland is where the NatureTech company has been able to demonstrate and rigorously test the work they do.
Head of strategic operations Carol Blackwood said the company is developing next generation technologies that make a demonstrable impact supporting nature-based solutions to climate change.
"From the incredible stream of talented people joining the team from Scotland's world class universities to the strength of the partnerships we have built with NatureScot, Scottish Government, Scottish Enterprise, South of Scotland Enterprise and Scottish Development International, we have achieved great success and impact," she said.
It was great to learn more about the innovative work of the team in delivering nature-based commercial solutions to a global customer base that is driving economic value for Scotland
"Our Scotland Land Cover and Change maps, together with our platform, provide access to unrivalled, quality data to support Natural Capital Assessment in Scotland. We will continue to build upon this success to further innovate, develop new products and enhance our current products. They are strengthened by our ability to apply and test on our doorstep and support the fantastic work in Natural Capital that is happening across Scotland."
The company has partnered with NatureScot and the Scottish Government to create a comprehensive map and assessment of Scotland's Natural Capital, helping to inform decisions and investments that support Scotland's transition to a more sustainable future. Building on the 2019 and 2020 Scotland Land Cover and Change maps, Space Intelligence will create an updated 2022 Land Cover map and a 2020-2022 Change Map. Additionally, this data can be used in new contexts to support novel financial instruments.
Head of spatial finance Dr Alexis Moyer explained:
"We can use our data to enhance sustainable finance, for example by identifying and assessing nature risk within sustainability-linked financial instruments (e.g., bonds and loans), and even helping to start mitigation processes where nature has been negatively impacted."
The company's innovations will be further strengthened, following a financial prize from the Can Do Innovation Challenge Fund.
The £30,000 grant will be used to demonstrate the technological and commercial promise of an annual product called Annual CarbonMapper™. This project will allow the company to map annual forest biomass changes and provide trend analysis on a much more granular time point. This will enable project investors to evidence carbon creation through nature-based solutions more quickly. The goal is to help to grow the forest carbon market and drive further investment into forest conservation and restoration.