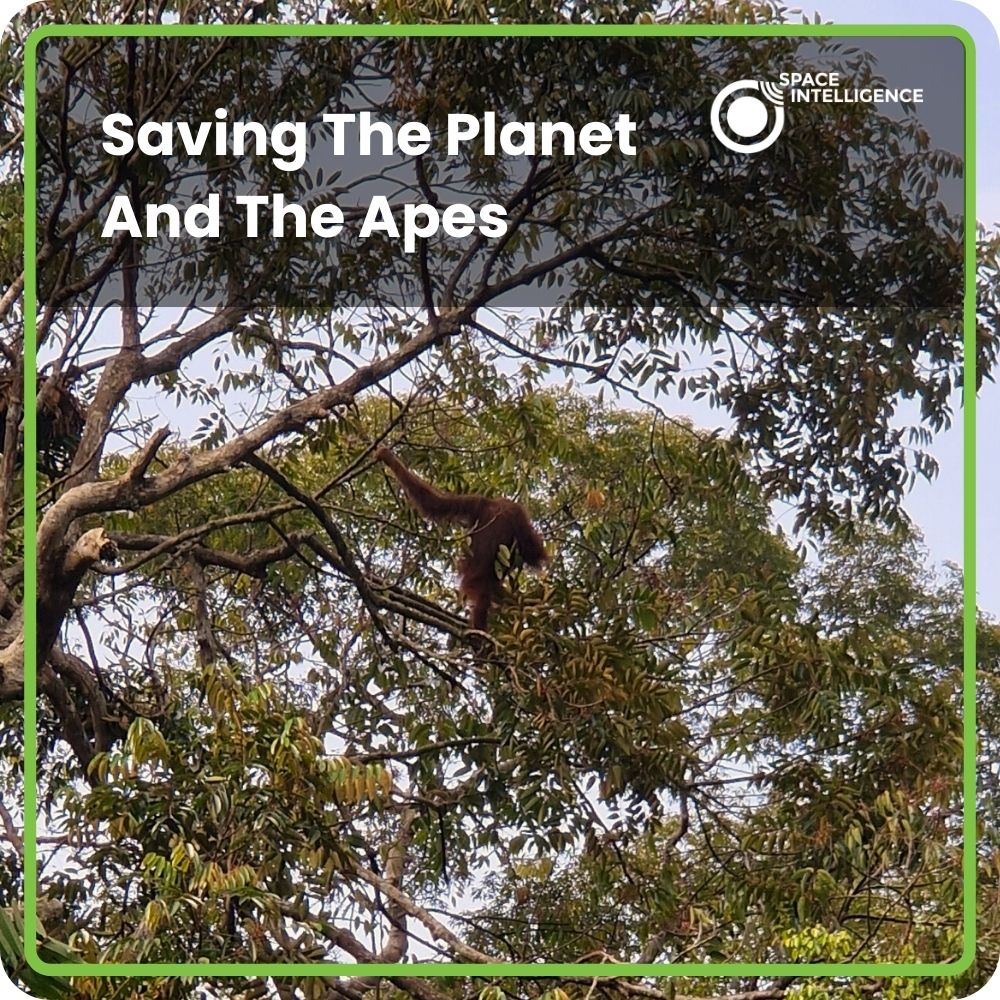 Saving the Planet and the Apes
Posted by

Categories

Blog

Date

14th November 2023
Space Intelligence Chief Executive captures wild orangutans on film while mapping forests from space.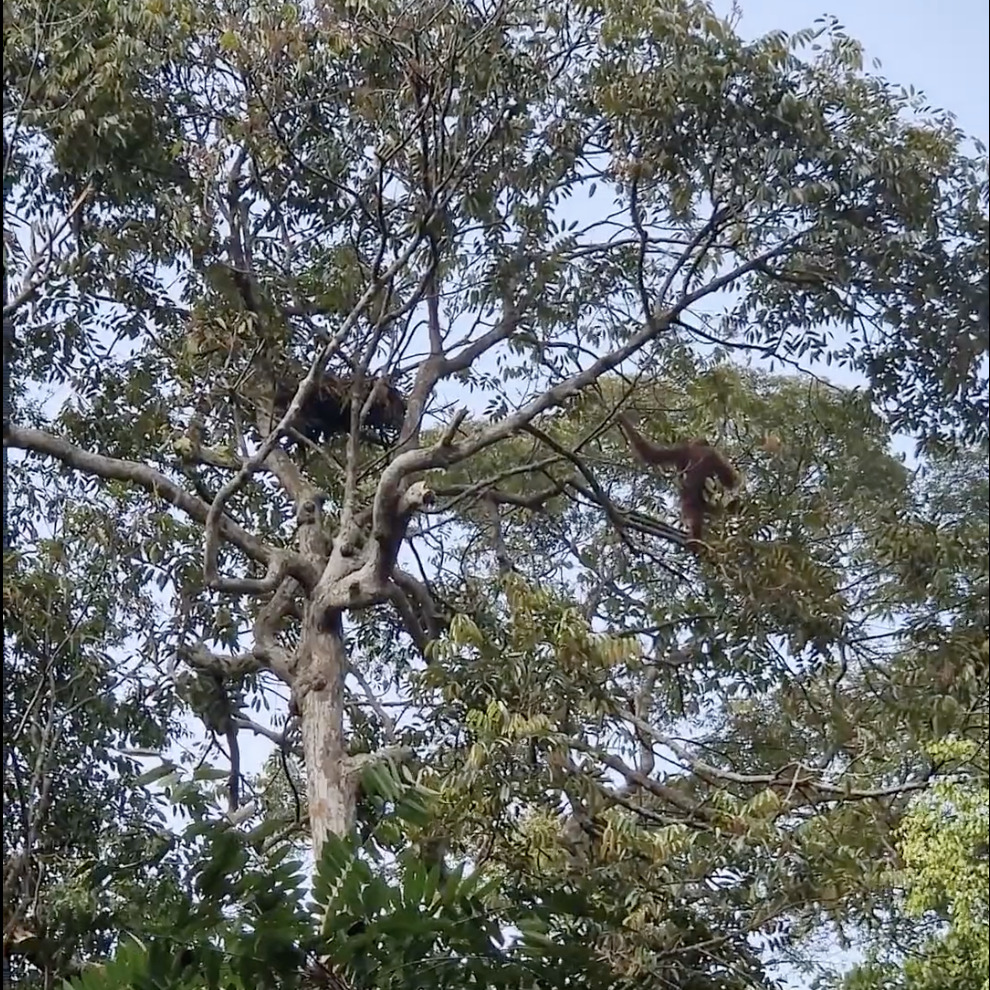 We were thrilled to see this story picked up widely by The Scotsman, The Herald, The Press and Journal, The Independent, The Evening Standard and The Daily Express.
Watch the video HERE
Read the full story below:
A pioneering Scottish company is at the forefront of the race to save remote forests and endangered apes – by mapping trees from space.
Edinburgh-based Space Intelligence uses different types of satellite images combined with artificial intelligence and ecological expertise to create detailed maps with insights about tropical forests.
These data are used to monitor change, helping conservationists prevent deforestation and reduce carbon emitted into the atmosphere.
The work also protects the habitats of species like orangutans, as seen first hand by Space Intelligence chief executive Dr Murray Collins while working in Northern Sumatra's Gunung Leuser National Park.
Dr Collins said: "It really was a defining moment for me. I had only ever seen orangutans in a conservation setting, so to witness orangutans as they should be in their natural habitat was a real privilege. It underlined to me what's at stake and why it's so important to develop sophisticated technology in the fight against climate change."
Dr Collins has spent his career working to help save the rainforest, measuring thousands of trees and setting camera traps in remote areas, before moving into monitoring trees from space.
Space Intelligence has previously been supported by the University of Edinburgh's Bayes Centre – an innovation hub for data science and artificial intelligence, and now works with companies globally to support their investment into nature. The Bayes Centre received £30.3 million from the UK Government and £2.2 million from the Scottish Government as part of the City Deal-funded Data Driven Innovation Initiative.
UK Government Minister for Scotland Malcolm Offord said: "It's great to see a pioneering Scottish company at the forefront of the race to save remote forests and endangered apes by combining big data from space and world class science.
"The inspiring work of Dr Collins and his Space Intelligence team is a vital tool for preventing deforestation and protecting orangutans and other wildlife.
"It's a fantastic example of why the UK Government is investing £30.3 million in the Bayes Centre and how Edinburgh is leading the charge to become the space data capital of Europe."
When businesses have decarbonised their operations as far as possible and need to offset what remains, they buy carbon credits. Data from Space Intelligence supports forest carbon project developers in generating these carbon credits but also, critically, enables the buyers of the credits to have independent insight into key metrics such as deforestation rates and carbon storage within projects. The company uses a combination of satellite data and on-the-ground forest ecology in an AI framework, which uses machine learning to help create detailed maps of forests and their change over time.
Dr Collins added: "The IPCC has stated that nature-based solutions can provide up to 30% of the carbon mitigation required to achieve the temperature rise goals outlined in the Paris Agreement. The science on their impact is proven, and now it's critical that both suppliers and buyers have access to high accuracy data about the impact these projects are having on preventing deforestation and enabling reforestation. NBS include forest conservation and restoration activity, which not only reduces carbon emissions, but also protects biodiversity and the livelihoods of the communities who depend on the forests."
Dr Collins, who has also had encounters with tigers and elephants in the course of his work, now employs over 50 people and is accelerating implementation of ambitious global growth plans.
He said: "For me, coming back to Indonesia and feeling the familiar heat and humidity, hearing the insects and birds and catching sight of a critically endangered species just makes me even more determined. We have to use space technology to give us the edge on addressing the dual climate and biodiversity crises."
Orangutans are currently classed as critically endangered. They are a vital cog within the rainforest ecosystem as they play an important role in seed dispersal. They also help to open up the forest canopy by breaking off branches and creating gaps which allows light to reach the forest floor. This in turn helps the forest regenerate naturally. 
According to recent figures, there are an estimated 13,000 Sumatran Orangutans left in the wild.