Space Intelligence uses Sentinel-1 satellite data shows ever-expanding illegal gold mining in Peru
Categories

Blog

Date

26th February 2018
One of the most biodiverse ecosystems in the planet – the rainforests in the Madre de Dios region of southeastern Peru – also contain some of the world's most easily accessible sources of gold in the deposits left by old rivers and streams. Unfortunately this has meant a increase in mining, and damage to this valuable ecosystem.
The spread of this mining was highlighted in an influential study in 2013 published by Greg Asner in the Proceedings of the National Academy of Sciences (link to the original article here, and an excellent non-technical summary in Mongabay here).
That study required expensive LiDAR data gathered from an aircraft to provide the input to the mapping data, making it hard to repeat or extend the analysis. At Space Intelligence we take advantage of a new radar satellite system which was launched in 2014, after Greg Asner's study was published. We use the European Space Agency's two Sentinel-1 satellites and our unique processing chain and the latest machine learning algorithms to map the Earth's surface.
New areas of mining are easily visible in our processed data. In the example below we show a subset of our processed data for a 15 km x 7 km area south-west of Puerto Maldonado, the regional capital of the Madre de Dios region. Grey areas show undisturbed forest, whilst areas we have coded as purple, indicate new forest forest clearance for mines. The areas we have coded green are those where we interpret the vegetation to have recovered following disturbance.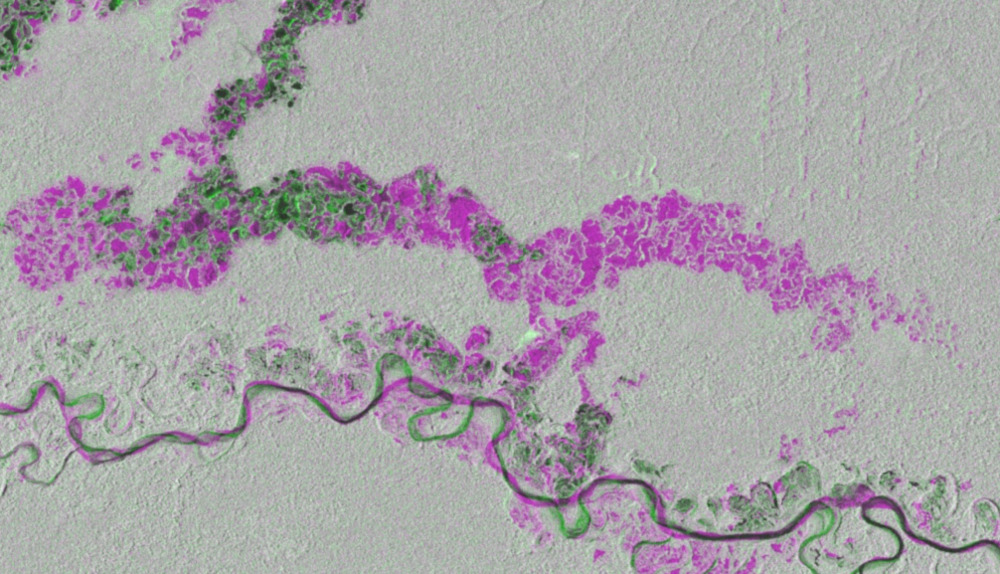 Unfortunately, in this area, it is clear that forest loss for new mining dominates. We have mapped the actual clearance, suggesting about 20% of the forest in this window has been lost in the last three and a half years: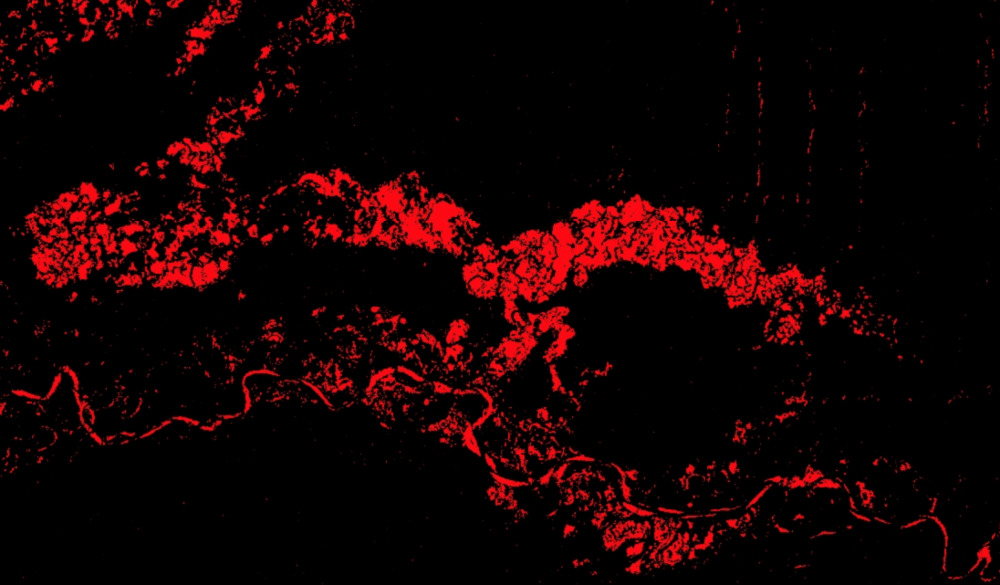 The sharp-eyed among you will also notice that the river (the Rio Tambopata) has changed course quite rapidly over these few years. It is normal for rivers here to wander rapidly, creating many ox-bow lakes as they meander over the flat floodplain, and then create a new channel and cut them off. However, this process has undoubtedly accelerated recently due to the rate of forest clearance and mining occurring around the river channel.
While somewhat depressing, one positive out of this article is the clarity of changes visible here, and the high temporal frequency of Sentinel-1 data. Capable of imaging the whole Earth every 6 days, the Sentinel 1 satellites allow us to map new deforestation with less than a week's delay, hopefully allowing rapid response to new clearance, and creating an easy route to the enforcement of forest protection laws.
Anyone keen to read more about illegal (and legal) gold mining in Peru, and the incredible challenge the government has in trying to stamp it out, could read this excellent article in the New York Times from 2016 https://www.nytimes.com/2016/07/26/world/americas/peru-illegal-gold-mining-latin-america.html
If you have an interest in developing mining monitoring systems, or would like us to provide a demonstration over your area of interest, then please don't hesitate to get in touch!
#mining #deforestation #forestdegradation # illegalmining #monitoring #SAR #radar #remoteSensing #satelliteData #bigData #machineLearning #ArtificialIntelligence
Tag:algorithm development, amazon, C band, deforestation, environmental monitoring, European Space Agency, forest degradation, forest degradation; carbon; biodiversity; tropical forests; rainforests; climate change; forest carbon, forestry, forests, innovation, machine learning, mining, peru, SAR, Sentinel 1, synthetic aperture radar, uk space