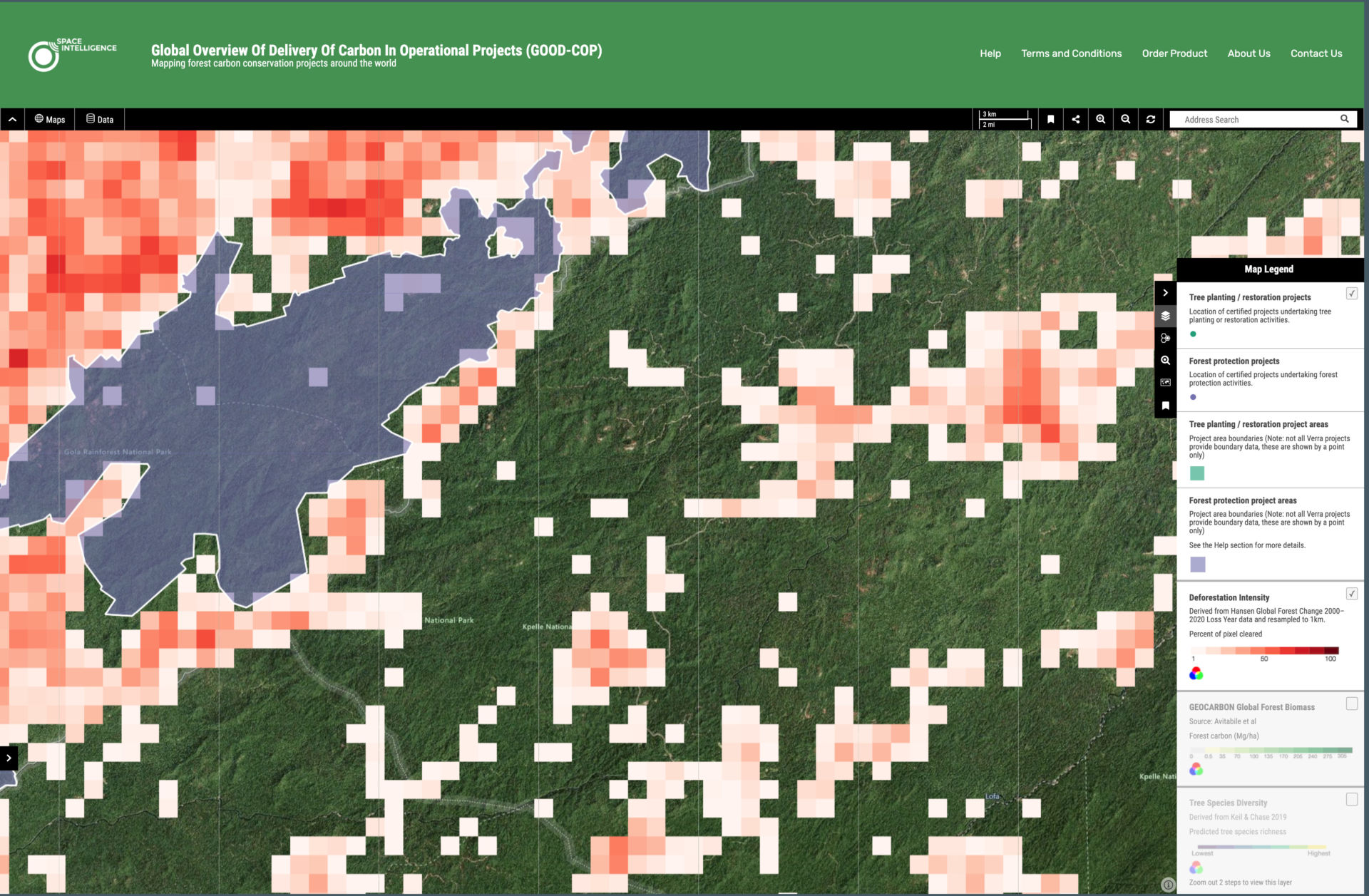 GOOD-COP launch – an interactive map of forest carbon projects worldwide
We've just launched a world-first interactive platform mapping forest carbon project globally. 
During COP26 in Glasgow, Space Intelligence has launched a world-first platform which displays forest carbon project data in an easy to digest world map. The GOOD-COP platform provides a powerful visual demonstration of how the world is taking action on climate change through investments in avoided deforestation and reforestation projects.
Clearing the road to net zero
There is an increasing interest in purchasing carbon offsets or otherwise funding nature based solution projects, as companies, and governments look to offset their emissions as part of their path way to become net zero (or carbon negative). However, finding out where projects are located and how they're doing can be labyrinthine, as the relevant details are often hidden in individual web pages or pdf reports.  This is where GOOD-COP comes in. With this platform we hope to make the roadmap to net zero a little more straightforward by improving the transparency of forest carbon projects around the world to better facilitate investment and in hand help improve the worlds climate and biodiversity. 
GOOD-COP (Global Overview of Delivery of Carbon in Operational Projects) shows the location of forest protection and restoration projects globally. We aim for this dynamic mapping platform to be an easy to use reference for anyone who has an interest in understanding the development of forest carbon projects; those selecting between projects for investment; or those seeking carbon offsets matching the criteria.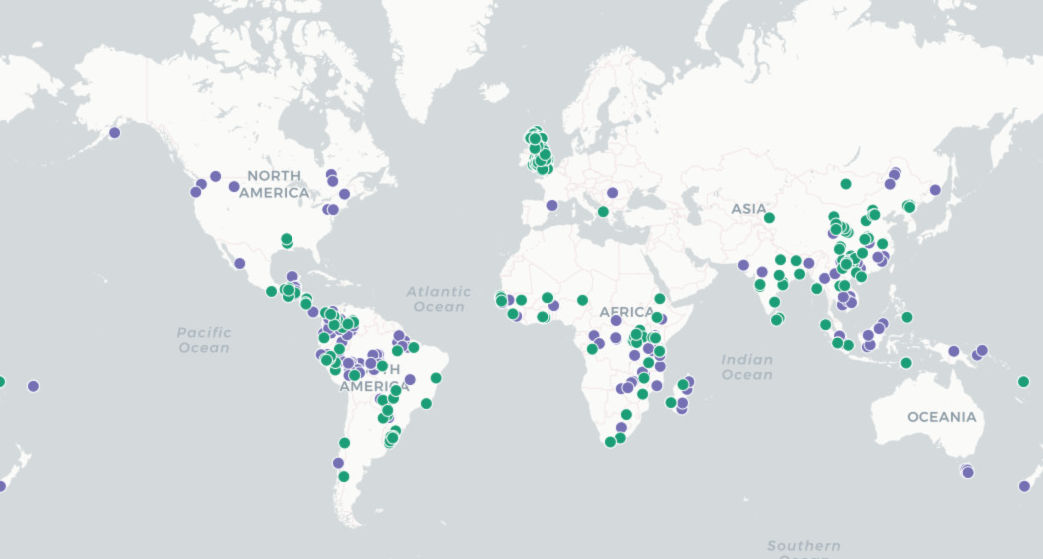 Helping investors meet their climate goals
Governments and large enterprises continue to search for ways to meet Paris climate targets, and will need to adapt to new Glasgow climate targets. Many governments and enterprises have announced more ambitious targets for themselves, to help keep the planet's temperature rise below 1.5C. Cutting emissions is of course one of the main levers to help meet targets. Another is investing in Nature Based Solutions projects, such as those which restore or protect the world's forests. These projects allow you to pay to lock carbon into the ground – which can count towards emissions reduction targets.
With the GOOD-COP map you can find where these projects are located and what activity is taking place (e.g. tree planting, forest protection) showing how the world is taking action on climate change through Nature Based Solutions. We also provide some background layers including supporting data on biodiversity, carbon and past deforestation. We hope these layers help to independently assess these projects, and help potential buyers of credits or supporters of projects with their decision making.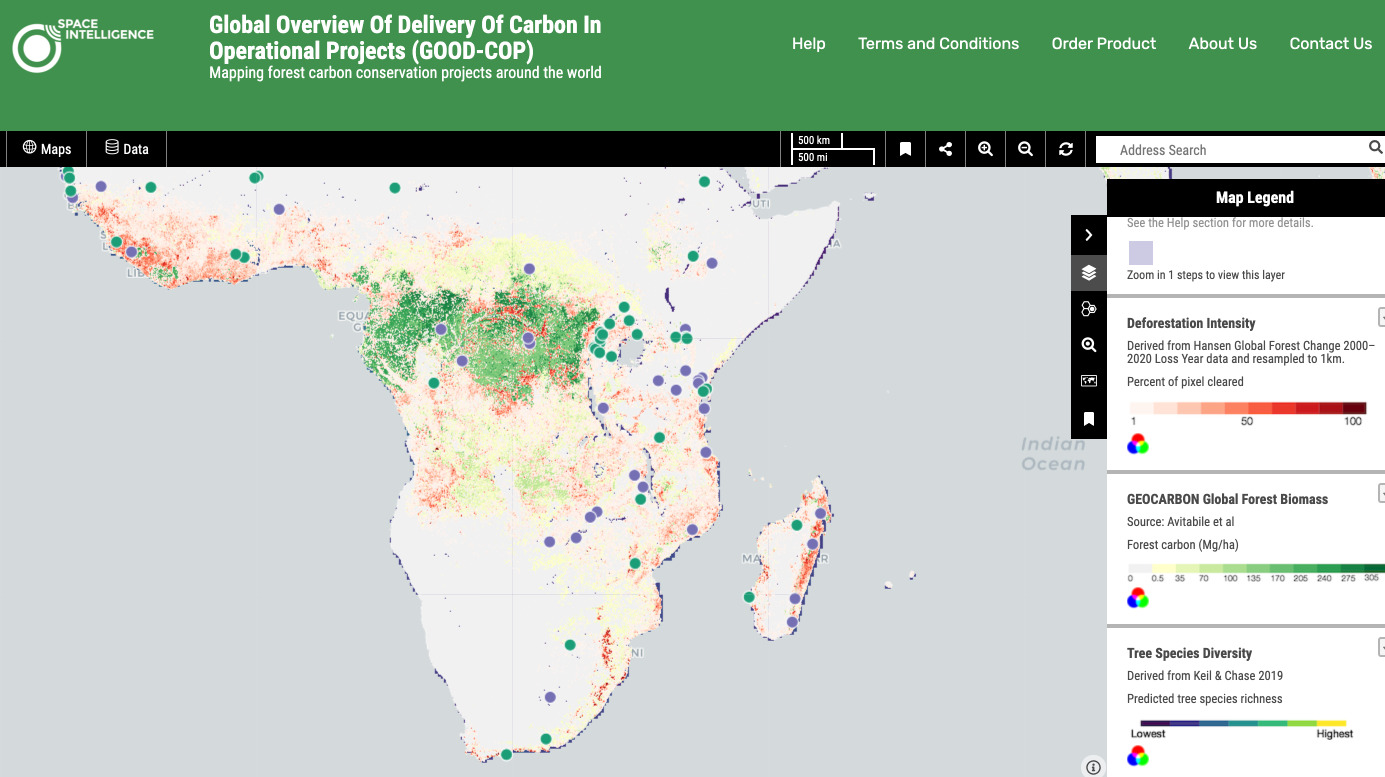 Innovative partnership and funding
The platform was designed by our brilliant in house experts led by our Geospatial Platform Lead Carol Blackwood. We are delighted to have all current Verified Carbon Standard (VCS) forest projects listed on our new platform. VCS is the world's most widely used voluntary carbon project standard with over 1,700 certified VCS projects which have collectively reduced or removed more than 630m tonnes of carbon and other greenhouse gas emissions from the atmosphere. We are also pleased to include all Plan Vivo projects – an Edinburgh-based standards organisation which provides the major standard for community-based projects. We also display ~80% of Woodland Carbon Code projects, the UK's main forest carbon standard. We are eager to import data from other smaller voluntary carbon standards.
We would like to give huge thanks to Scottish Government's Unlocking Ambition Challenge Fund for their initial funding, which supported the development of the GOOD-COP platform. 
Carol Blackwood, Our Geospatial Platform Lead here at Space Intelligence, who led the development of GOOD-COP said: 
Bringing this data together in a single map to tell the story of what is happening around the world is extremely valuable. the mapping highlights where real change is already happening thanks to these forest carbon conservation projects and where there's potential for more impact. The Roadmap for GOOD-COP will see us adding even more depth to the platform with performance metrics, as well as the addition of more projects, enabling us to delve into the data to create powerful insights for those users interested in tackling climate change and biodiversity loss through voluntary carbon offsets
Ed Mitchard, Chief Scientific Officer and Co-founder of Space Intelligence, said:
Putting together this spatial database has been an even bigger challenge than we had expected, with it taking us nine months to get to this stage. Hopefully by having done this work we can help kick-start and improve transparency in the market for nature based solutions. ensuring money flows to good projects and thus ensuring the world's natural habitats are protected and restored. 
Murray Collins, Chief Executive Officer and Co-Founder of Space Intelligence, Said:
Climate change and biodiversity loss are the twin environmental challenges of our time. As the World's leaders and corporations gather in Glasgow, to make Net Zero and Nature Based Solutions  investment commitments to address these challenges together, there is a rapidly growing need for information on these projects in a single platform. we're delighted to have produced GOOD-COP to bring together information on forest carbon conservation projects around the world in one place, and look forward to enhancing the platform in the future.
Adam Gibbon, Founder of Nature Based Ventures, who connects finance to nature based solutions projects, said:
In order to get finance flowing at scale to nature-based enterprise we need to increase understanding in the investor community. GOOD-COP is a step forward on this front. Investors, and other interested parties can get an at-a-glance overview of projects around the world, highlighting how much has been achieved but also hoe much potential remains.
We are working on adding more projects to the website, if you are a user who would like their projects shown in the global map do get in touch at: [email protected]. Anyone can submit their own project details and shapefile to Space Intelligence, for us to assess for inclusion on GOOD-COP
Investors and developers interested in ordering Space Intelligence's forest carbon maps and land cover maps can make an enquiry here.