Gorillas don't like water
Categories

Blog

Date

1st December 2022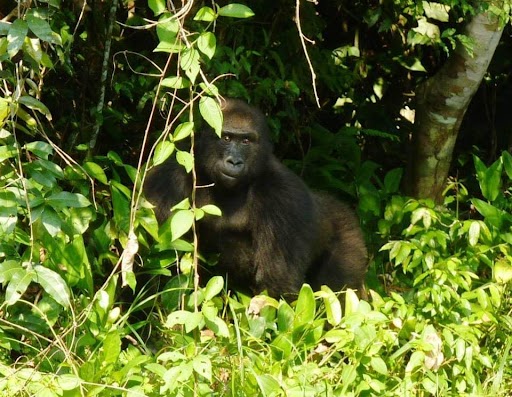 Did you know that gorillas don't like water?
Luckily our senior forest scientist did, so when a gorilla burst through the trees as she swam in the river, she didn't panic.
Paula Nieto Quintano was working in the Republic of Congo, conducting research for her PhD.
"My assistant cut herself on the rocks trying to get out of the water and I was trying to remember how to tell her in French that we should stay in the water," Dr Nieto said.
"My site is a gorilla sanctuary, and next to the camp they take care of orphaned gorillas before releasing them to the wild. This one was three years old, so not so big, but it was really just curious, I don't think he was used to seeing a white face, and eventually the keeper appeared, so we were safe."
Paula's field work in the Republic of Congo concerned the savanna, an ecosystem that burns as part of its ecological cycle. Her research was centering on the effects of more frequent fires during the late dry season, which are happening as a result of climate change and human intervention.
"It was a pretty big plot, 25 hectares, we measured all the trees, grasses, shrubs, everything that was there and then we burned them at different times of the year," Paula explained.
"Then we measured them again every year to see what the effect of the fires was. Fire is an essential ecological disturbance in savannas, but their dynamics and effects remain poorly understood. Now, with climate change or more human activity, the fire dynamics are changing. So we were investigating that."
Paula was working with an NGO, the local university and the local community.
"It was really interesting," Paula said.
"I like doing fieldwork, and love to work and learn from local communities. In RoC I worked with a local NGO, supervised two Masters students from the local university, and I had professors from the local university helping us with the project so it was a real joint effort."
Like many of the team at Space Intelligence, Paula feels her experience in the field is invaluable to her current role.
"We had a call the other day with a prospective client, who was asking us what our method was," she said.
"It wasn't because they wanted to know about all the remote sensing behind it, they wanted to know if we understand the ecology behind it, the vegetation, and we're not just not using images without properly understanding what's there and the people involved. They wanted a company that can do both, and we do – before we start any project we do a lot of background checks, speak to local experts and understand the ecology and community. Then we apply all the remote sensing knowledge."
If you would like to understand how we can help you assess the carbon credits in your project, contact [email protected]